Postage stamp Prague -
sale, purchase
It has been carrying the mails of the world since the 19th century. Today, it is common part of life.
We talk about a postage stamp. Small piece of paper, thanks to which your letter or consignment will be delivered to the correct address.
The stamp is security and it's shape is usually that of a small rectangle of varying proportions.
Our specialized store offers many kinds of stamps.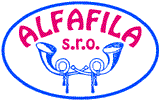 Open
Monday – Friday: 11:00 – 18:00
Saturdaya: 11:00 – 16:00





Contact
ALFAFILA, s.r.o.
Václavské náměstí 28
pasáž U Stýblů (Alfa)
110 00 Praha 1
CZ – Česká republika
tel.: 224 235 457

http://www.alfafila.cz