Postcard Prague -
sale, purchase
ALFAFILA, s.r.o. – our specialized store offers the sale or purchase of old postcards.
Postcards have been dated since 1777. Mr. Desmainsons, indigenous from France, is considered as
the first editor of postcards, originating from France. Old postcards were usually produced in square form.
The promotion was on the one side of a postcard (usually illustration of place or situation) and space
for message on the other side. Resemblance of the form is the same as today.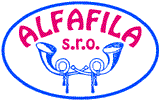 Open
Monday – Friday: 11:00 – 18:00
Saturdaya: 11:00 – 16:00





Contact
ALFAFILA, s.r.o.
Václavské náměstí 28
pasáž U Stýblů (Alfa)
110 00 Praha 1
CZ – Česká republika
tel.: 224 235 457

http://www.alfafila.cz