Correspondence cards Prague -
sale, purchase
ALFAFILA, s.r.o. – correspondence cards are an integral part of correspondence.
They represent previous form of postcards and significantly affected its creation and development.
Only letters had been used for correspondence until the 1850s.
According to rules in 19th century, all correspondence had to be hidden against publicity.
Subsequently, other options were used for correspondence.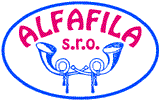 Open
Monday – Friday: 11:00 – 18:00
Saturdaya: 11:00 – 16:00





Contact
ALFAFILA, s.r.o.
Václavské náměstí 28
pasáž U Stýblů (Alfa)
110 00 Praha 1
CZ – Česká republika
tel.: 224 235 457

http://www.alfafila.cz